Marmalade Boy (ママレード·ボーイ Mamarēdo Bōi) is a Japanese manga series written by Wataru Yoshizumi. It was serialized in the magazine, Ribon from May 1992 to October 1995, and published by Shueisha. Tokyopop previously published the manga in North America.
In 1995, a seventy-six episode anime was adapted from Marmalade Boy and ran until the following year. Additionally, a prequel short film was released shorty after.
Marmalade Boy has been adapted into a series of ten light novels by Yumi Kageyama, an artbook, and a dating simulation game. In Taiwan, Marmalade Boy was adapted into a television drama that consists of thirty episodes.
Currently Wataru Yoshizumi is working on a sequel titled, Marmalade Boy Little.
Miki Koishikawa's life turns upside down when her parents decide to divorce and switch partners with the Matsuura family. Problems start to arise when Miki finds herself torn between the Matsuura's son, Yuu and her childhood friend/former crush, Ginta Suou while Yuu's ex-girlfriend enters the picture.
Characters
Edit
Marmalade Boy Little is the sequel to Marmalade Boy, also by Yoshizumi. The series began serialization in Cocohana on March 28, 2013. The story focuses on Rikka Matsuura and Hajime Koishikawa.
Marmalade Boy by Wataru Yoshizumi was serialized in Ribon from May 1992 to October 1995. It was published into eight volumes by Shueisha. The manga was reprinted twice in Kazenban and Bunko editions.
Tokyopop published the series in North America, but lost the license. They also published individual chapters in their magazine, Smile.
The anime aired from March 13, 1994 to September 3, 1995 on TV Asahi for a total of seventy-six episodes. It was adapted by Toei Animation and directed by Akinori Yabe. Tokyopop also released the anime on DVD for North America, however it is now out of print.
The opening song was "Egao ni Aitai" and the ending songs were "Suteki na Serenade," "Kareha Iro no Crescendo," and "Yoake no Etude."
Anime film
Edit
A prequel film to the anime was released on March 4, 1995. It is shown from Yuu's point-of-view. The theme song to the film was titled, "Melody - Dakishimete."
A series of ten light novels were released from July 1994 to March 1995. They were written by Yumi Kageyama and published under Shueisha's Cobalt-Pinky imprint.
Video game
Edit
The Marmalade Boy game was released on January 27, 1995 for Game Boy and April 21, 1995 for Super Famicon. It is dating simulation game where the player assumes the role of Miki, who has to chose between Yuu Matsuura, Ginta Suou, and Kei Tsuchiya.
Live-action drama
Edit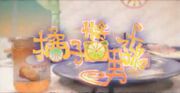 A live-action adaptation of Marmalade Boy aired in Taiwan during 2002. It stars Stella Huang as Miki and Ken Chu as Yuu. Stella also performed the opening theme, "Wen Shi De Hua." The ending themes are "Wo Hao Xiang" by Jeff Chang and "Make A Wish" by Vic Zhou.