Bill Matheson is a character in Marmalade Boy. He doesn't appear in the manga and is only a character in the anime.
Bill first appeared in episode 54.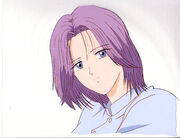 Bill is in love with Jinny. At first, she thought that he was gay and liked Brian. It turned out, the reason he hung around Brian was to get closer to her. Yuu became uncomfortable by this and thought that Bill was interested in him. He likes astronomy and looking at the stars in the loft.
He slapped some sense into Jinny in episode 62 after he confronted Jinny about what she did and said to Miki.
He befriended Anju when he and Yuu ran into her in New York.