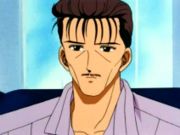 Yoshimitsu Miwa is a famous architect. He is Satoshi's father and is Suzu Sakuma's uncle. Despite being married, Yoshimitsu is a womanizer and is known for having affairs with women. He said that he was using his wife as a camouflage to see other women on the side. He fell in love with Chiyako but she turned him down because she was already dating her college sweetheart, Jin, who is Miki's father. Yuu believed that Yoshimitsu might be his father but it turned out that Yoshimitsu wasn't his dad after all.
It was revealed in the last chapter of the manga that Jin saw him with Chiyako and Jin automatically assumed that the two were having a relationship. Chiyako and Yoshimitsu had dinner together and it was mostly work-related.
Ad blocker interference detected!
Wikia is a free-to-use site that makes money from advertising. We have a modified experience for viewers using ad blockers

Wikia is not accessible if you've made further modifications. Remove the custom ad blocker rule(s) and the page will load as expected.